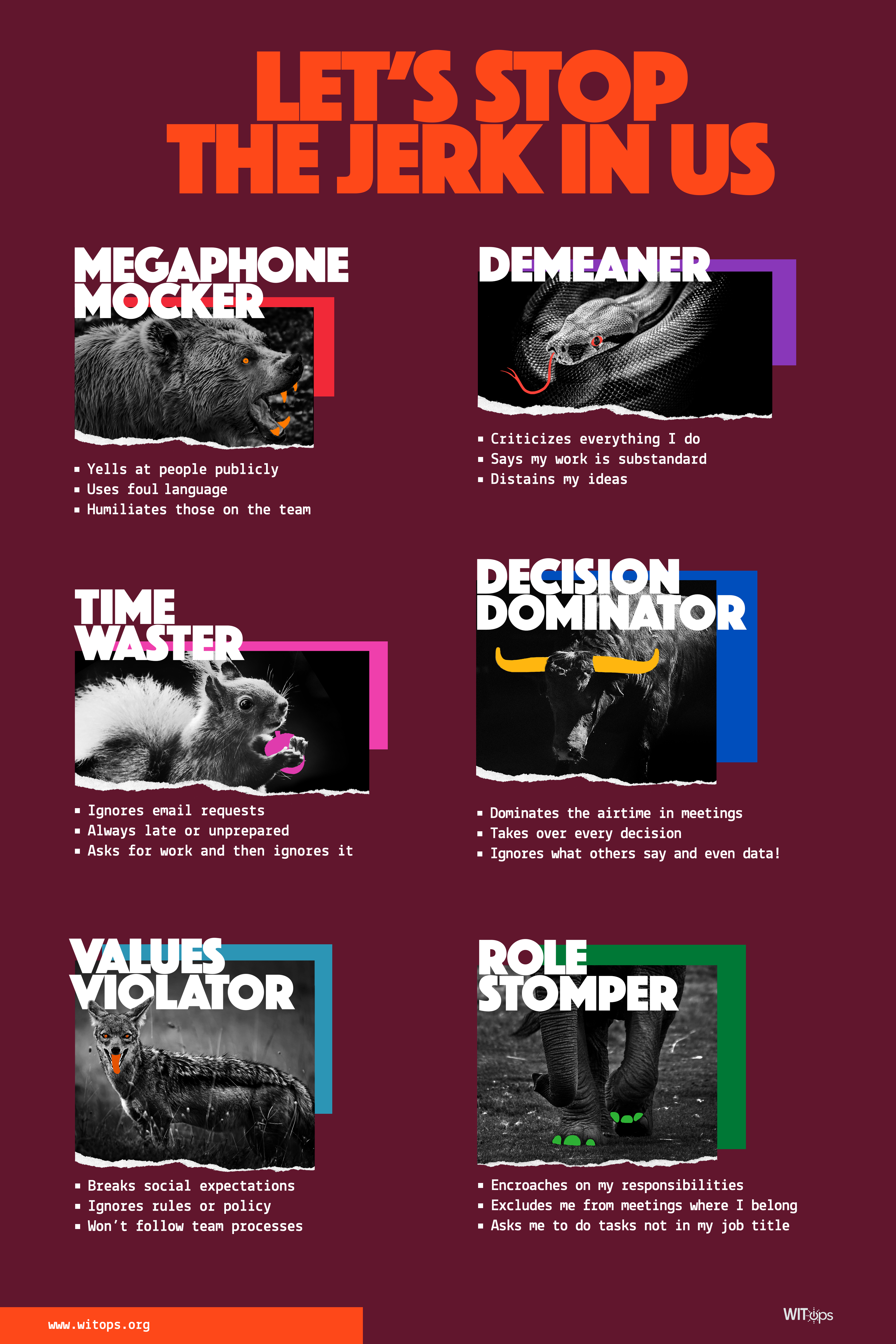 Try our posters to build awareness in your group. Let them guide conversations about how you want to interact!  We have 6 valuing characters and 6 jerk characters. Or get the combined posters shown. Download to print the posters, and put them on your virtual whiteboard. Use the emojis and stickers in your meetings and online chats. 
And take the temperature of your team's interactions with the Batman Jar process.
Research: What is Valuing vs "Jerk" Behavior?
How behavior impacts a positive working experience
The Problem: For the last 40 years we've been encouraging women to choose technology careers. But today's statistics on women in tech are not encouraging. The quit rate for women is 41% compared to 17% for men.  Even with extensive efforts to recruit women into technology, the number of women has fallen from 31% in 1990 to 25% in 2014. Anita Borg reports that women described cultural values specific to high tech companies that worked against women. Fifty percent of women in STEM report gender-related discrimination. Research confirms that in a male-dominated workplace women experience more harassment and hostility. Overall women and people of color report a significantly more negative workplace experience. These interpersonal dynamics create more stress and work against feelings of belonging and value. So, it is not surprising that our research finds that women "thinking of leaving their job" score lower on key factors necessary for women to thrive.
Valuing vs. Jerk Behaviors: This project seeks to better understand workplace interactions in order to identify specific behaviors which create or undermine the experience of connection and value in the workplace. Years of bias awareness workshops have not eradicated the problem. Women often state, and our research confirms, that women don't feel valued or heard. They say that men, managers, or teammates are "bro's" or "jerks". But what does this mean?  We need a new approach. We focused on understanding which behaviors are experienced as valuing and which result in naming the other as a "jerk". Then we created interventions to help teams and organizations change their own behavior.
The Project
Research: Using the time-tested Contextual Design approach Karen Holtzblatt led volunteer students from the University of Maryland's HCIM program to conduct 26 field interviews with women and men from 25 to 45 years old working in a wide variety of job and technology industries. The interviews were focused on finding observable behaviors that stimulated the feeling of "value" and those that represented being a "jerk". Interviewees were asked to describe incidents of valuing and jerk behavior that they experienced, witnessed or did over the last month. We collected incidents from working meetings, manager and co-worker interactions, and from non-work life contexts. The field data was interpreted to capture key issues and behaviors and was then organized into an affinity diagram to reveal patterns. We have now identified 15 key valuing and 15 key jerk behaviors. 
Survey: With behaviors identified, we developed a survey to determine which behaviors were more important to individuals in our industry. We have now collected data from over 100 participants. Please help increase our coverage! This data will be ready by end of year to inform our interventions. 
Interventions: The team used the data to generate interventions such as processes, a self-scorecard, and workshops. We are most excited about our Character Posters representing 12 characters personifying the valuing and jerk behaviors along with valuing stickers and emojis. Our hope is that these interventions will help start conversations in your team and increase awareness and to stimulate more valuing and less jerk behavior at the workplace. Please try some of these products and send us feedback. Watch for their announcement.
Spreading the Word: Karen has introduced the valuing and jerk behaviors in this livestream. The Character Posters, stickers and emoji's are packaged together in the download. 
Collaborating Colleagues: Thanks to Lacey Arevalo and Naishi Jain for project managing this research effort and other students at University of Maryland for their help. Thanks to Nicola Marsden and her student for their work on the survey. Special thanks to Peter Verastegui for our creative Character Posters. 
Donate: Please help fund a survey panel to collect a wider sample of responses impacted by remote working.  Donate to the general fund.