At the core of our redesign approach is the principle of sneak attacks. We look for small changes in the everyday work practices that can be tuned to work better for everyone on a diverse team. Bias is hard to eliminate – but it is not hard to interrupt. Our goal is to slide tiny changes into existing practices so that they aren't very noticeable. 
Across the literature on gender and at the core of good practice design is to make implicit expectations explicit. Explicating values, behaviors, procedures, and cultural expectations allows us to see our processes differently and design for the outcomes and experiences we want – instead of letting habit and social, corporate, and team implicit expectations dominate. Through explicating our invisible assumptions, we find small changes that will help the whole team and are also good for women. Then we can sneak these changes into the practice.
For this OP we look at key processes through the lens of explicit and implicit practices with an eye for gender issues. Using Scrum, the most popular form of agile, as an example we develop a tool to raise up implicit practices so that teams and organizations may discuss and redesign them. The tool we developed has been honed in leadership and gender workshops, with Scrum teams, and with individual team members. All of this work has been spearheaded by Nicola Marsden and her team in their work to improve practices for women in IT.  We collaborated on the final tool we share here
Research: Scrum is often cited for creating a positive working environment for women. Its values, principles, roles, and practices are said to hold great potential to promote fairness and gender equality. But does it? To find out Nicola leaned on social scientific and process redesign literature to define a 2×2 analysis matrix and then iterated its use. Each quadrant guides reflection with a set of questions. The questions selected are those that best generate insights and encourage reflection. The resulting framework and the questions for each quadrant were then reviewed and iterated by experts to its final form. The reviewers were experts with a background in Scrum, gender respectively feminist studies, organizational development, or related fields.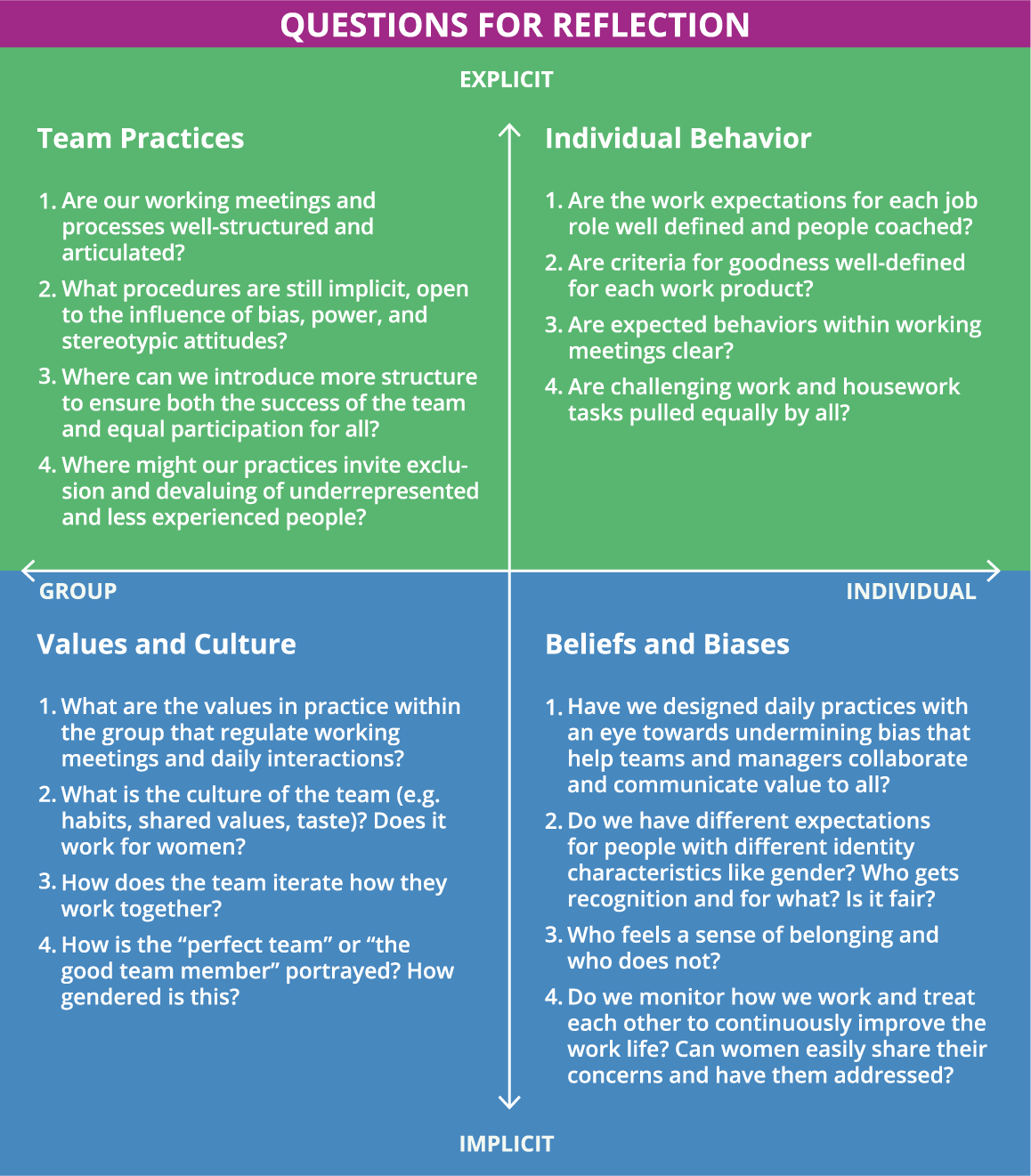 Intervention: Using this analysis matrix and questions we developed a workshop which can be run by managers and teams to improve their Scrum practices. The matrix and workshop can be easily adapted to look at other practices. Download a guide to the workshop and try it. Contact us for help. 

Collaborating Colleagues: Thanks to Michael Ahmadi, Claudia Herling, and Volker Wulf. This work was partially funded by the German Federal Ministry of Education and Research (BMBF), grant number 01FP1603, 01FP1604, and 01FP1605. The responsibility for all content lies with the authors.
Donate: To support more projects like this, please help us cover our costs by donating to the general fund.